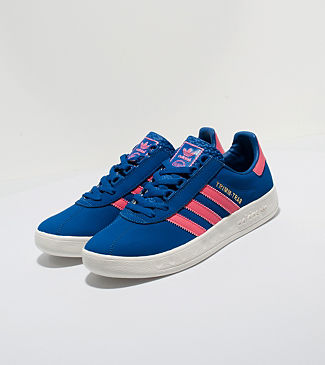 When my Royal Blue/Pink Adidas Trimm Trab arrived from Size? I was doubly curious to breach the box and cop an eyeful of exactly what these babies were made of. The old-fashioned ones were suede but these new "global climate change" ready ones were constructed from a synthetic material, in which I was very interested. No danger of fading or the finish being ruined by inclement weather, fo sho.
"Perfectly suited to the coming autumn and winter sloshing," I mumbled, enjoying the scent of one as I ran the other under the kitchen tap. My hand was deep inside the shoe and no H2O managed to penetrate the micro-porous fabric. I hurriedly stashed the Trabs in my emergency prepper's bag deep within my Apocalypse Bunker, and ordered a second pair, this time in Bliss/Navy.
By the time the second pair arrived, the Royal Blue/Pinks had been called upon several times, most notably when we had a near-record downfall that turned the back end of the garden into a lake. My kids' toys were out there amid that cataclysm, and I had to save them! As I strapped on my ultra-comfy waterproof Trabs and plunged into the deep, I was entranced by their wavelike appearance through the clear water, framed by undulating blades of grass. The rippling vegetation-shoes hypnotized me and I descended a spiral path to a distant age…
***
The year is 2033 and most of today's coastlines are unrecognizable. Half of London is gone. Liverpool is a memory, as are most of the towns west of Manchester. A relentless assault from the skies in the form of tropical rain and hail has brought everything from polar bears to palm trees to Britain. Adidas Trimm Trab has become the shoe of choice for men of action. Unfortunately, the precious !Gu-hual-AH! gum from the tree of that name, from which the Trimm Trab is constructed, is rapidly growing sparse; the area outside Wolverhampton where Adidas maintained a secret plantation had become severely waterlogged and the trees succumbed to the ravages of an amphibious alien species with a ferocious nature.
The uniform is now limited to all-black military wear, pants tucked into thick socks, with Trimm Trabs in all colourways worn religiously. I say "religiously" because an actual cult has sprung up due to their diminishing availability. The cult is centred around a mysterious black cube, about twenty feet on a side, into which cult members disappear and reappear and frequent intervals. Membership is strictly invitation-only. Inside the cube is the world's only time machine.
The Trab Cult uses the time machine to return to 2014 to source the much-prized !Gu-hual-AH! gum in order to replenish their supplies of the waterproof shoe so favoured by 2033's men of action. Trab Cult members are divided into a complex six-level hierarchy, signified by the colourway worn. A bit like Star Trek, only better. The order is as follows:
1. Green/Satellite Blue – Infantrymen, whose sole* responsibility is running humidifiers and bucket
chains.
2. Royal Blue/Pink – Militant Landscapers, mainly used to identify and combat alien vegetation and
exotic fauna.
3. Aluminium/Navy – Naval Division, whose duty it is to keep refugee flotillas, mutant whales, and
pirates at bay.
4. Cardinal/Silver – Commando units that guard the black cube and its contents, and who form a
shield between the Trab Cult Officer Class and the rest of the world.
5. Bliss/Navy – Junior officers and veteran assassins trained to kill anyone who makes it past the
Cardinal/Silver shield, or to assassinate any officers at the top level who are spies.
6. Ink/Gold – Top-rank Officer Executive Class, or "top boys" as they're informally known. Decision
makers tasked with the job of rebuilding Earth.
*Pun very much intended.
***
As I slowly regained consciousness, I was aware of a serious chill about the abdomen and the rough texture of my cat's tongue against my ear. I was wet-through, back in the living room, completely naked apart from my Trabs. My feet, however, were bone dry. Unfortunately, my wife was having tea with the Vicar, and they gazed sadly down at me, as I lay on my back, my brain awhirl. "Please excuse me, Vicar," I began, but he interjected. "It's quite alright, my son. We all have our addictions that sometimes get us into trouble…"
I nodded in agreement, picking up the phone to order a pair of Ink/Gold; I needed a promotion.